PUBLISHED 04/2023
PUBLICATION

- Getting the boards of directors on board to drive sustainable transformation
A study from Quantis, The Boson Project and Goodness & Co
After probing many leaders on what they identify as the main obstacles to sustainable transition, we tackled the topic we identified as key: the board of directors.
While it is the boards' responsibility to ensure the sustainability of companies' performances – in a world with limited resources – this study touches on the obstacles boards encounter regarding sustainable transformation, on the role boards can play and on the actionable steps for boards to actively encourage sustainable performance.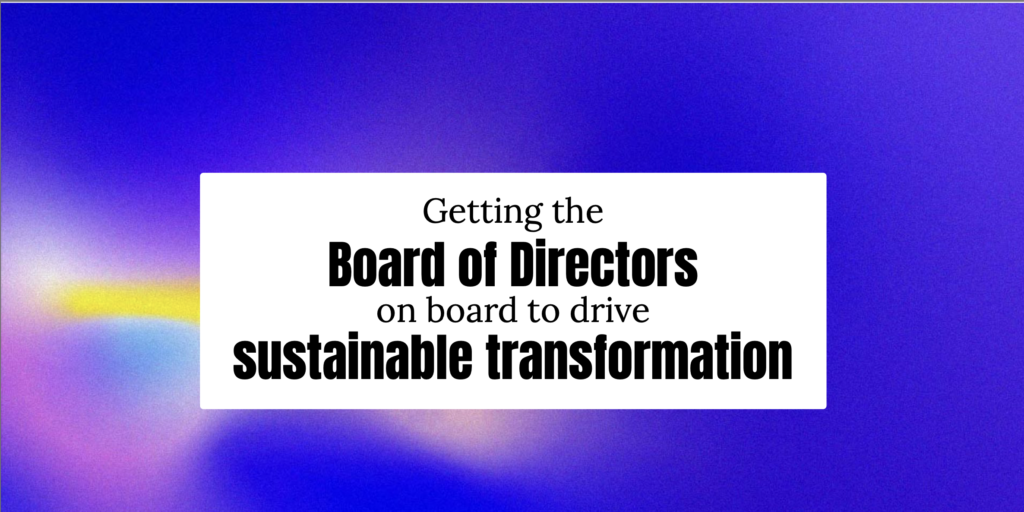 The key learnings:
1. An ambiguous relationship with time
The Board of Directors – whose role is to set the company's course, determine its strategic orientations and control their execution – is supposed to be the guardian of sustainable performance. However, when faced with the boldness required by sustainable transformation, it is more likely to prefer the comfort of the short term.
"In my opinion, the board of directors plays almost no role in ensuring sustainable performance."
2. A lack of literacy
The first observation made by the interviewees is that there is a lack of literacy in environmental issues, so that the sustainable transformation of the company's economic model is perceived more as a short-term cost than as a longer-term investment. Training, whether in-house, through exchanges with peers, or through the watchful eye of an expert administrator, remains a must.
"It seems like everyone has mastered this language, but actually no, not everyone has the same level of literacy."
And the tools to make the connection between performance and transformation are lacking to convince.
3. A compositional issue
"A broader representation of the skills and interests of the company's stakeholders is a key issue in meeting the immensely complex challenge of environmental performance. Only a diversity of profiles will enable this collegial body to deal with the subject in a holistic way.
"I feel that the board of directors is the place where the challenge must be exercised. But there is no challenge in unity: you need otherness. And that's what's terribly lacking in some boards."
4. A system with little incentive
More generally, the way in which the board of directors is organized does not particularly encourage directors to take on this responsibility individually. Consideration should be given to the bodies that enable the subject of environmental performance to be introduced, such as CSR committees, to directors' remuneration and to the way in which the board interacts with the company's other stakeholders.
"CSR committees are often neither pro-active nor advocates for CSR issues when there are decisions to be made by the board."
Discover our findings in-depth below: