PUBLISHED 01/2022
BLOG

- 2022 SUSTAINABILITY TRENDS

A new year has started with new hope and new energy to continue on the path of creating a positive impact. Let us look at the sustainable business trends of 2022 that are expected to become business norms.

From Purpose to Practice – From now on, businesses will not be assessed exclusively by their economic growth but also by the impact they are making and the purpose they are fulfilling. Impact becomes key for all stakeholders and for customers in particular.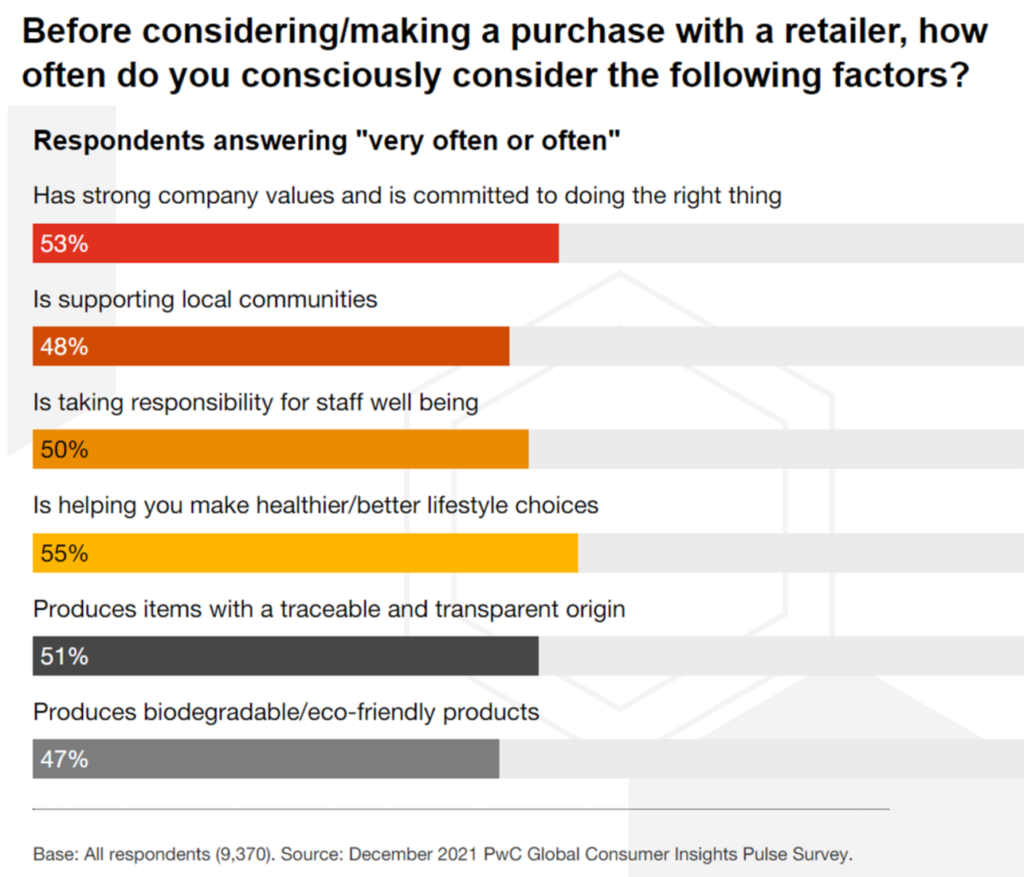 The last two years have shown a shift in consumer preferences as their demand for sustainable and impactful businesses increases. Unilever's "sustainable brands" such as Dove, Vaseline and Lipton brought 75% of the company's growth and grew 69% faster on average than the rest of its businesses in 2018. According to a Harvard Business Review – EY survey, 53% of executives acknowledged that a strong sense of purpose has driven the successful innovation and transformation efforts and delivered revenue growth.
It becomes clear that only businesses with a clear social or environmental purpose will thrive.
Businesses will be put to the test– Governments will increasingly mandate companies to showcase their environmental commitments and actions. As the reporting and compliance on carbon emission get strict, companies are now also expected to report across environmental, social and governance areas and assess the metrics most relevant to their sector, strategy and stakeholders.
As such, becoming a B Corp can be part of the solution for companies to measure impact on people, planet and purpose and upholding the highest standards. B Corp certification can give companies a competitive advantage and are instrumental in fulfilling values into actions. Companies need to convert their purpose into concrete, operational changes that will help them implement the purpose in their day-to-day actions.
Social Impact In Focus – Social issues have come into sharp focus due to the pandemic. It is now expected from business leaders to demonstrate how their company is serving the needs of all their stakeholders and foster an environment of equity, inclusion and diversity in the workplace. Every organisation needs to adopt a compassionate and responsive leadership with advanced effort towards diversity and inclusion with clear targets and KPIs.
From Net Zero to Climate & Planet Positive – As organisations worldwide are progressing towards net-zero goals, companies are also expected to include climate positivity in their ESG goals. While cutting down carbon emissions is crucial, businesses also have to take action towards the regeneration of our planet and its biodiversity. Business leaders need to look beyond reducing their carbon footprint and aim at reducing the business's environmental footprint. A climate positive approach seeks to incorporate a holistic aspect of environmental impact.
Companies like Danone and Ekaterra are leading examples of organisations that have adopted regenerative agriculture as a part of their climate action plan and are bringing an integrated strategy to restore, renew and bring growth to the communities and the planet.
Co-opetition and Collective Action – The crucial task of environmental action cannot be possible without collective action. The collaborative effort of visionary leaders has seen a rise in recent times, and collaboration, not competition, is driving a positive impact in the industry. Communities of businesses are coming together to share ideas and create solutions collectively for our planet and people. The European community of B Corporations came together last month to uncover the power of collective action and put forth that building partnerships is imperative in a time like this, and collaborative advantage is the way forward.
Here at Goodness&Co, we have built Generation Glasgow to gather a collective of courageous CEOs and support them to be bold and take action. Businesses are encouraged to work together to mutualize forces and achieve bigger goals. This is, we strongly believe, the path forward for better futures.
Trends may come and go, but the path ahead for our planet, economy, and society requires us to make transformations here to stay. However, it is crucial for businesses; sustainability has come out of the sidelines and has taken centre stage in our economy.